About Narrowboats
I own and live on a narrowboat on the Regents Canal in London. I'd recommend it to anyone. Here's some of my thoughts about the canalboat world.
The History of Narrowboats
Narrowboats are a traditional feature of the British inland waterways, a charming reminder of our heritage. Originally developed for transporting cargo, they were long and thin to minimise the width of canal needed, and barge-shaped to minimise the draft (in many canals you can stand up without any problem, they are just a few feet deep). The standard width is just 6'10", although the boats can be up to 70' long. Traditionally most of the boat would have been used for cargo, usually with a simple canvas drape over a top beam covering the load. Loads included coal and bulk industrial materials. At the rear there would have been a boatman's cabin and a small deck behind that for steering. Motive power was originally horses, supplemented by bargepole and even human foot power through the tunnels! Later they were converted and built with diesel power.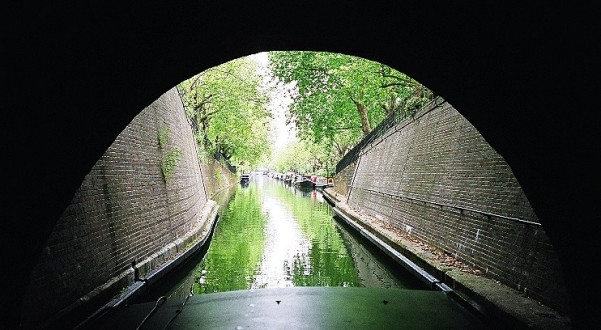 (Thanks to Christine for all the photographs on this page)
Today, of course, most of the cargo is carried by lorry or train. Very few working cargo boats remain, and they mostly supply the leisure and residential users of the canals - with bags of coal and bottles of gas, for example. Motive power is pretty much exclusively by diesel engine. Modern narrowboats still stick to the same basic shape, but are almost entirely roofed over, for lots of living space. Rear decks sometimes retain the 'trad stern' layout of a very small steering deck, but increasingly leisure boaters want to have their friends and family with them on the rear deck, so 'cruiser' sterns are more common, incorporating seating for several people. Usually the engine is crammed underneath this lower but longer deck space.
Narrowboats Today
There are three main categories of modern narrowboats, reflecting their different uses. Rental boats used for holidays tend to be quite long and have lots of bunks and seating, for larger groups of people. Secondly, many people own boats for occasional use for weekends and the odd holiday; these tend to be smaller and relatively sparsely appointed. And finally, there are boats which are set up for permanent living. These boats are usually a decent size, fully loaded and quite comfortable, but with the emphasis more on long-term comfort for one or two people than on temporary space for a larger group. Televisions, sofas and comfy beds are the norm, even washing machines are common. If you don't have a permanent mooring you might have an inverter to provide limited 240V power, or a generator. Permanent moorings these days usually provide 240V mains power, often telephone lines (although this is becoming less important with the growth in mobile phones), and even cable TV.
Let's also not forget that less traditional broad-beam boats are increasingly common. Up to twice the width of a narrowboat, but usually following the same basic layout, they allow more space and in a more usable format - there are obviously limitations to a 6'-wide living room! Purists tend to look down their noses, and there are parts of the waterway system that are impossible to access, but if you accept those limitations, you can have a superbly comfortable and quite roomy living space - 600 sq ft is quite common, and that's the size of a modest flat.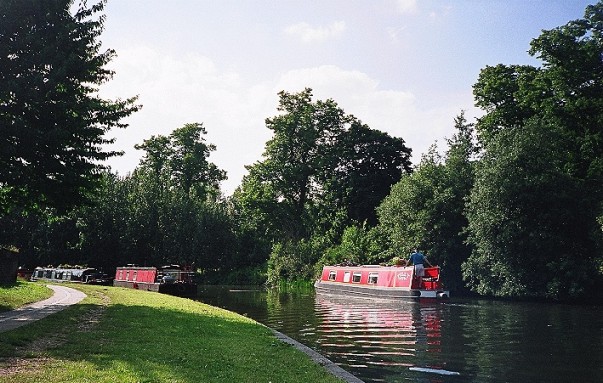 Modern canal boats are generally steel-hulled, and usually the steel wraps all the way round to form the walls and roof as well. This can make it difficult to significantly modify the design after initial manufacture, but does make for a sturdy and watertight structure. As mentioned, they usually have diesel engines (usually specialist marine engines such as Lister, or car-based engines such as the BMC taxi engine or even just a Ford diesel) and make use of 240V mains as well as 12V battery power. Sometimes the battery is also used to provide 240V power when not plugged in, although this is an inefficient process and can't be used for anything very powerful. Coal or wood-burning stoves are traditional and still common - especially since they also provide a good updraft for ventilation - but diesel-powered heating is becoming increasingly common. The marine diesel fuel is very lightly taxed, like agricultural diesel and heating oil, so this is an economical as well as powerful and flexible solution.
Money and Rules
When I first got involved on the canals, someone told me that there are lots of rules on the waterways, but few are actually enforced. We certainly bend them a lot! The waterways are 'owned' by a government agency known as British Waterways. No-one owns a mooring, unless they own a house on the waterside. You own a boat, and rent a mooring - or in some cases (and strictly off the record) you rent both boat and mooring from the owner. However, in theory, you're not supposed to live on a mooring unless it's an official residential mooring, of which there are very few. But that's only theory.
For example: in theory you don't buy a mooring, you buy a boat. But in the real world, you buy a boat on a mooring to get access to the mooring, and British Waterways can pretty muich be relied on to transfer the mooring into the new owner's name. Therefore, the price of a boat on a mooring in London is rising in much the same way as property prices. Although the boat itself generally drops in value, you can get a capital return on a residential boat in London in much the same way as bricks and mortar. They're significantly cheaper than an equivalent flat, though.
More theories: you shouldn't live on a non-residential mooring; but if you keep your head down, in practice you can. Therefore renting a boat is not legally a residential letting, but in practice that's exactly what it is. Difficult to get contents insurance, though! But again, you pay significantly less than for a proper flat. However, it's difficult to get into the boat rental market: you generally have to know people and to be a 'boatie' already; or at least know what you're doing. I was bloody lucky to get my first toe-hold.
Day to Day Practicalities
Living on a boat takes a little more work than a house or flat. There's the water tank to top up, the tiny fridge and constant shopping, the need to carry absolutely everything aboard down the towpath. The gas canisters to look after, and the diesel to check. Constant tidying. It was easier when I only worked four days a week! The worst bit is the toilets. 'Grey' washing water can be pumped straight into the canal, but sewage obviously has to be stored on board. Every so often you have to go down to Little Venice and get the tank emptied out. Or - even worse - there is the 'bucket and chuck it' routine: a chemical loo which you have to empty every week or so, also at Little Venice.
Ideas and Innovations
I've got some ideas on what I'd like from my ideal canal boat. I'd probably prefer it to be a London pied-a-terre (to complement a roomier country pad) rather than a full-time home, but it makes little difference to the design, as it would still be my main home. It would have to be capable of touring, but the emphasis would be on comfort when moored and around the London waterways. And, unencumbered by tradition, I have one or two innovations I'd like to consider:
Firstly, with the development of the cruiser stern, I see no point in having an open area at the front of the boat as well. I'd prefer to extend the bedroom right into the bows, making use of several feet of otherwise wasted space. This can also give a more cruise-liner look which I find rather attractive.
Secondly, I'd like a proper bathroom. Most canal boats have a compact shower, and often this doubles as a sit-down mini-bath; there's a particular type of stepped square tub which is quite common. Some even have a short 4' bath sideways-on, which is an improvement. However, I'm a real wallower and I love my bath - for reading, relaxing with a drink and a cigarette, listening to the radio... I'd like to put a full-sized domestic bath in. It would need to be lengthways in a narrowboat, and it will take a lot of water, but neither of these problems is insurmountable. Most obviously, the water consumption is a non-issue: you could just use the bath when moored - when you have easy access to a water tank top-up - and stick to showering when touring. Secondly, as you'll see from my concept designs, I propose to make the bathroom cover the whole width of the boat, so there will be plenty of space. One mainly uses the bathroom on the way to and from the bedroom, so I think that passing through the bathroom on the way is no hardship. And finally, the extra couple of feet in length needed over a shower has already been reclaimed from the bows, above.
One small point: if you're short of space, I don't see the absolute need for a draining board. When space is at a premium, I'd prefer to use either the cooker or perhaps a rack on the kitchen worktop (which could then go into a cupboard), freeing up space for a bigger worktop.
For one or two people, a breakfast bar is an adequate dining table which can also be used as kitchen workspace.
Weight is not an issue. Why not have a luxurious marble worktop in the kitchen? I'd also like a fully wet bathroom with a sealed floor.
I'm a big fan of Bose sound systems. They have this marvellous knack of getting terrific sound out of compact speaker systems; they could almost be tailor-made for boat living. Two of my existing Bose systems spring to mind: the Acoustic Wave (a superb ghetto-blaster-sized all-in-one unit) and my main stereo, a Lifestyle 20, which consists of tiny 1" stereo speakers backed up by a large bass unit designed to be hidden under or behind furniture. An expensive option, but a choice I've already made for use in houses.
With the intelligence built into the current crop of hybrid-power cars, I can see that it would be possible to start the engine - or a separate generator - on demand. This could be used in conjunction with a 12->240V 'inverter' to provide 240V power on demand without knackering the battery. It would have to be a quiet and smooth motor, though - Lister are not contenders! Perhaps that lovely BMW diesel straight six...?
Not exactly an innovation any more, but flat TVs are perfect for boat use. Most are also 12V units, ideal for running directly off the battery, and many also support computer display. Ditch the portable!
Concept Design
So here are some of my ideas made into concept drawings. To start with, here are the designs for a 57ft narrowboat designed for permanent living. The dimensions are the maximum size for a boat which can travel any waterway in Britain. Longer boats can have problems with tight corners and small locks. Wider ones can struggle on slim stretches of canal and, again, in locks not designed for them.
The boat is called Western Star and has the black/green/white colour scheme in honour of the Star Ferry in Hong Kong. There are skylights in the roof - they might need more heating in the winter, but they'll make it much more light and airy and will help with cooling ventilation in the summer.

Note (from left to right) breakfast bar, large kitchen, shower/bath, large bedroom cupboard, full-size double bed, water tank in bows.

Sleeping accommodation can be extended by converting the seating area into a guest double; there's also a fold-down single in the kitchen. Note large marble worktop in kitchen, fold-up extra worktop, and sealed 'wet' bathroom floor.

Small desk forward of kitchen, and full-height kitchen cupboard incorporating dishwasher.

Cruiser stern with space for maybe 5 including steerer; more can be accommodated on the roof or be indoors.
Blue Sky Designs
I've also been toying with other layouts for different sizes of boat etc. For a start, I'd really like to get away from a boat feel inside, so perhaps a leather sofa and if possible a dining table - I love dinner parties. These are not as fully thought-out as the detailed plans above, but for starters, how about this for a luxurious broadbeam 57x10ft boat?:

Note the comfortable lounge and even a six-seater dining table! I couldn't sleep that many guests, but in London you don't need to. Also separate bathroom and WC, and bags of storage in the bedroom. There would be sufficient space for a guest double futon on the floor in the lounge.


These two are attempts to fit the same kind of features into a narrowboat. To squeeze it all in they're slightly longer than the 'ideal' 57ft; but at 62ft they're not excessive. A traditional rectangular table seats five but is a little tight to get past. The slimmer curved table fits better and could seat four round a picture window; it would probably be higher than normal, with bar stools, to make best use of limited legroom. There's also a cupboard behind the sofa, perhaps a drinks cabinet. The sofa itself might look like a free-standing unit, and could perhaps be based on one, but would be fitted and have storage space underneath. The chair is free-standing, though.

Trying to cut down the size even further, this is a 60' design. Moving the entrance to the rear of the boat creates other problems, though - it makes the lounge a better shape (although likely to induce short-sightedness) but dramatically reduces the amount of storage space available, and is too short for the semicircular table. I'll have to work on this one, and try to cut it down to 57', but because of the steps I can't cut the stern deck down much shorter.

How about this for a compact design, though? This is also a narrowboat and at just 45ft, barely any bigger than the boat I live on at the moment - a very manageable size, and significantly cheaper. I've managed to keep the breakfast bar, if not the dining table, by trimming down the kitchen to a minimum (no draining board, for example). The items on the worktop are to scale, my Bose boombox and a food chopping board. The TV would be a TFT screen either incorporated into a cupboard above the breakfast bar, or fixed to the wall above the smaller bench seat (to port). A table which descends from the ceiling into the seating area might work, or I could just make do with fold-up stools as at present, or a small garden table outdoors.
Of course, none of these are going to happen for a while - I've only just bought my first boat and need to kit that out first...
Click here to go to the PoppaNet home page.
Note: PoppaNet is designed for 1024x768/16-bit colour/v4.x browsers.
All content &copy Alan Moore 1997-2007 unless otherwise specified. All rights reserved.