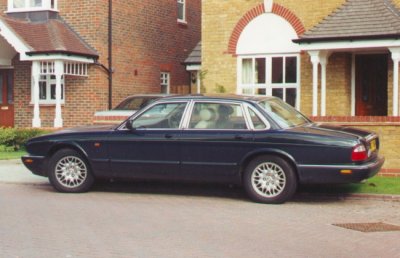 Summer 2000
It had been quite a while since I'd been behind the wheel, but a two-week holiday in England was coming up. I spent ages surfing the web looking for the right motor, and settled for the Jag in the end for two reasons: because I was curious, and because I thought it would be an appropriate motor for a wedding we were attending in a posh country hotel. Although it was July - normally convertible weather - as it turned out, the choice of a hard-top saloon was justified...
This car came from Budget Rent-A-Car, although their web site doesn't mention anything other than boring mainstream cars; I found this on the web site of a booking agent, Nova. I picked it up from Budget's Heathrow office, and it turns out they have a range of more interesting cars, from Megane cabrios to S-class Mercedes. Why they don't publicise this on their web site escapes me; the booking agent said that quite a few people turn up at the office and, seeing the posters, want to change from a Vectra to something a little more fun.
First Impressions
It's quite intimidating getting into these expensive cars for the first time - especially, in this case, because it was so long. At least we weren't in a multi-storey car park, which has always been the case before. The boot isn't very tall but swallowed our two suitcases easily enough, and then we clambered in. Although this car is actually bigger than the new S-type Jag, the low, sleek styling somehow conveys the impression that it isn't. And once you get inside, that impression is intensified: it's not small, but hardly spacious. However, as with the BMW 3-series, it is extemely comfortable inside and you settle in nicely. You seem to be sitting very low inside the car, surrounded by the mechanicals: a large transmission tunnel sits between driver and front passenger.
But what really strikes you is the hush once all the doors and windows are shut. Soundproofing is used extensively to make the interior of the big Jag a quiet, calm place to be during the morning rush hour (which we hit as soon as we came out of Heathrow). Apart from worrying about guiding this enormously long (16') pimpmobile through busy traffic without scratching it, we were immediately relaxed.
Accommodation
As I've mentioned, the leather seats are very comfortable, and they give quite good lateral support as well. They're also electrically adjustable, like those on a Range Rover, though this was the bottom of the range car and didn't have the seat memory. I didn't sit in the back but it also looked very good, apart from the limited legroom. There is a long-wheelbase version if you want serious legroom for lanky younger brothers. The slightly cramped footwells are a side-effect of the low-level seating, which is obviously designed to keep the centre of gravity as low as possible.
Everything else about this car is also designed for comfort and peace of mind. The electronic controls are superb, even down to the remote control to open the boot. Trip computer, decent stereo, leccy windows and power steering all present and more than correct: pretty much perfect.
Performance
This was marginally the most powerful car I've ever driven, its 3.2-litre V8 churning out 240bhp. It's not the lightest, though, and the engine had to work hard to produce a decent turn of speed. You find yourself using the wonderful J-gate on the automatic gearbox to keep the car in lower gears: third (out of five) is good for 110mph and is great for A and B-road blasting. Sometimes on the motorway I'd leave it in fourth and in 'Sport' mode to improve throttle response, though of course that did nothing to improve the fuel consumption, which averaged about 20mpg. Interestingly, the 4.0-litre version is supposed to give better fuel economy; I think this 3.2 just has to work that little bit too hard.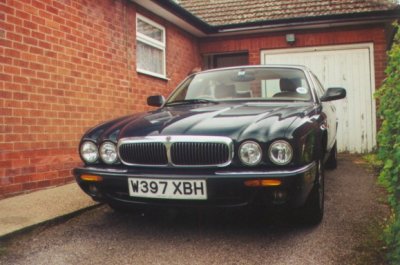 Nevertheless, the performance was pretty good. 0-60mph is around eight seconds - much better than the smaller BMW 323i Cabriolet - and top speed is allegedly 140mph, although again I never got close to that on British roads. Where it really scores though is on roll-on accelaration. Once you're above say 50mph, there's little to touch it if you boot the throttle to get kickdown, or - even better - have it in the right gear already.
Handling
Again, in fairness, let me point out that this is the bottom of the XJ8 range. I'm sure the posher versions have excellent suspension, and this one wasn't bad, but it was slightly wishy-washy. What you certainly can't criticise is the ride comfort, and in fact the body also seemed very stiff, which bodes well for the handling of, say, the XJR. But with this relatively low spec version, the suspension didn't seem hugely well damped, which led to a bit of uncertainty when settling into a corner or accelarating out. Obviously it's loads better in this respect than a Range Rover, but the BMW just pips it for composure. But don't forget that the last car I drove was a Lotus Elise, and this is all relative - the Jag still goes very well, has excellent grip in corners, and is quite taut for such a comfortable cruiser. I'm dying to try an XJR or XK8.
This car also had switchable traction control, although with an automatic gearbox it's difficult to spin the rear wheels on dry tarmac anyway. It also had a non-switchable Electronic Stability Control, which cuts in if you start to lose it: it can brake any individual wheel to restore cornering stability, but again this only ever kicked in when I was playing on gravel, and I think you'd have to be very naughty indeed to get into that sort of trouble on the road.
Practicalities
This is an extremely practical car in many ways. Everything is designed to make progress from A to B as painless as possible, and since Ford bought Jaguar in the late eighties their quality control has improved tremendously. Decent pace, space and (now) reliability combined in an elegant and upmarket package. Even the depreciation is now less of an issue. The only concern, then, is the poor fuel economy - both an ecological and, in Europe, a cost issue.
This is quite a heavy car, and this version is slightly underpowered, so the engine works hard. The 4.0-litre, with slightly better fuel economy, might be an almost perfect package.
Summary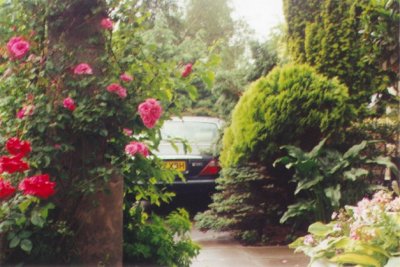 Can't seriously fault it, although the fact that this is the bottom of the range is occasionally evident. A very good example of what the British motor industry is capable of, even if Dad did refer to it as a 'big green Ford'. Cheeky bugger.
Note: PoppaNet is designed for 1024x768/16-bit colour/v4.x browsers.
All content &copy Alan Moore 1997-2007 unless otherwise specified. All rights reserved.